What the Hell Happened to Kevin Costner?
In the early 90's, he was arguably the biggest star in Hollywood.  His films were hits.  His directorial debut swept the Oscars.  Kevin Costner was at the top of the A-list.  Twenty years later, his films go direct to video and he's been reduced to playing Pa Kent in the new Superman movie.
What the hell happened?
Kevin Costner's first film was a little gem called, Sizzle Beach USA.  The movie sat on the shelves until after Costner became a star and then was released on video to cash in.
Costner can also be spotted very briefly in Night Shift!  He plays "Frat Boy #1″ in the party scene at the morgue.
Costner filmed scenes for the 1983 hit, The Big Chill.  He played Alex, the college friend whose suicide brings the rest of the cast together.  Unfortnately, Costner's flashback scenes were cut and he ended up playing a corpse.  His face was never seen in the movie.  But he did lay still very convincingly.
Director Lawrence Kasdan was a friend and promised to make it up to him by casting him in another role later.
Meanwhile, Costner continued paying his dues in movies like The Testament (pictured) and Fandango.
In Testament, Costner had a small role opposite Rebecca De Mornay.  She and Costner played a young couple who decide to leave town after losing their baby.
Testament was originally filmed as a an entry for the PBS TV series, American Playhouse. It received a small theatrical release before eventually airing on PBS. Reviews were mostly positive.
In 1985, Kasdan finally made good on his promise by casting Costner in Silverado.  Silverado was Kasdan's attempt to bring back the Western, a genre that had more or less died following Blazing Saddles.
Costner later admitted that he was disappointed not to play the hero role.  Instead, Kasdan cast him in a showier supporting role.
Silverado got mixed reviews and performed modestly at the box office.  It failed to bring back the Western genre, but it did succeed in introducing audiences to Kevin Costner.  It also marks Costner's introduction to one of the three genres which would define his career.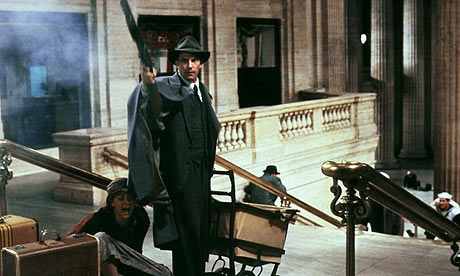 Costner finally got to play the hero two years later in Brian DePalma's The Untouchables.  The film got its star power from Robert DeNiro as Al Capone and Sean Connery in a role that would finally win him an Oscar.  But Costner's Elliot Ness was unquestionably the center of the movie.
The Untouchables was a big hit with critics and audiences alike.  If Silverado introduced audiences to Costner, The Untouchables proved that he could be a leading man.
Later that same year, Costner appeared opposite Sean Young and Gene Hackman in No Way Out. 
No Way Out was a sexy thriller.  The kind that would become really popular a few years later with Fatal Attraction and Basic Instinct.
While it got good reviews, it did moderately well at the box office.  But it showed that Costner was a star on the rise.
Posted on August 20, 2011, in Movies, What the Hell Happened?, WTHH Actor, WTHH Director and tagged dances with wolves, entertainment, kevin costner, movies, robin hood, the bodyguard, waterworld. Bookmark the permalink. 166 Comments.